Are you looking for new ways to maximise the value of your data? The REAN model provides an excellent way of mapping use cases related to data or analytics for customer data platforms.
Analytics has become an integral part of our data-driven world. It is now used to identify trends, inform decisions and even predict future outcomes. However, for analytics to be useful, we need to ensure that our use cases are well defined and properly mapped out. That's where the REAN model comes in.
The REAN model stands for Reach, Engage, Activate and Nurture. This user journey approach helps companies make sense out of their data by breaking down complex problems into manageable chunks.
By using the REAN model, organisations can quickly identify how users interact with their products and services. By identifying the user journey both on and offline it becomes possible to map out the analytics use cases needed to measure the impact and optimise accordingly.
In this article, we'll look at how this model works and how it can help us create effective analytics use cases.
Reach, Engage, Activate, Nurture Framework
Reaching, engaging, activating and nurturing customers is an important part of any successful digital marketing strategy. This model provides a comprehensive approach to understanding how your customer interacts with your on and offline channels and content over time.
Using this model allows you to identify key stages in the customer journey and pinpoint areas where you can optimise your engagement efforts. By mapping each stage of the REAN model onto your analytics use cases, you can ensure that your campaigns are performing at their best – driving more conversions and increasing customer loyalty.
Reach Data Use Cases
Building on the REAN model, we can now turn our attention to the analytics use cases that will help us in our efforts to reach customers. To do this, we need to understand how customers interact with our digital channels and content. By gathering data on how we find our customers, we can create targeted campaigns that speak directly to their needs and interests.
From there, it's important to track key performance indicators (KPIs) related to customer interactions. This includes things like click-through rates, bounce rates, reach source traffic share, and overall how the traffic source engages the audience. By analysing these KPIs over time, we can identify trends in customer behaviour and adjust our strategies accordingly. For example, if we see a spike in engagement from a particular channel it be time to start paying for ad campaigns from that channel.
Sample Reach Data Use Cases (DUCs) might be
SEO/SEM/SMM optimisation
Retargeting optimisation
Lookalikes and exclusions for ad campaigns
Audience segmentation and creation
Knowing which channels are performing best is also essential for successful reach campaigns. After all, you don't want to waste time or money marketing through channels that aren't generating results. Through careful analysis of your analytics data, you can determine which channels bring in the most valuable customers and focus your efforts there for maximum ROI.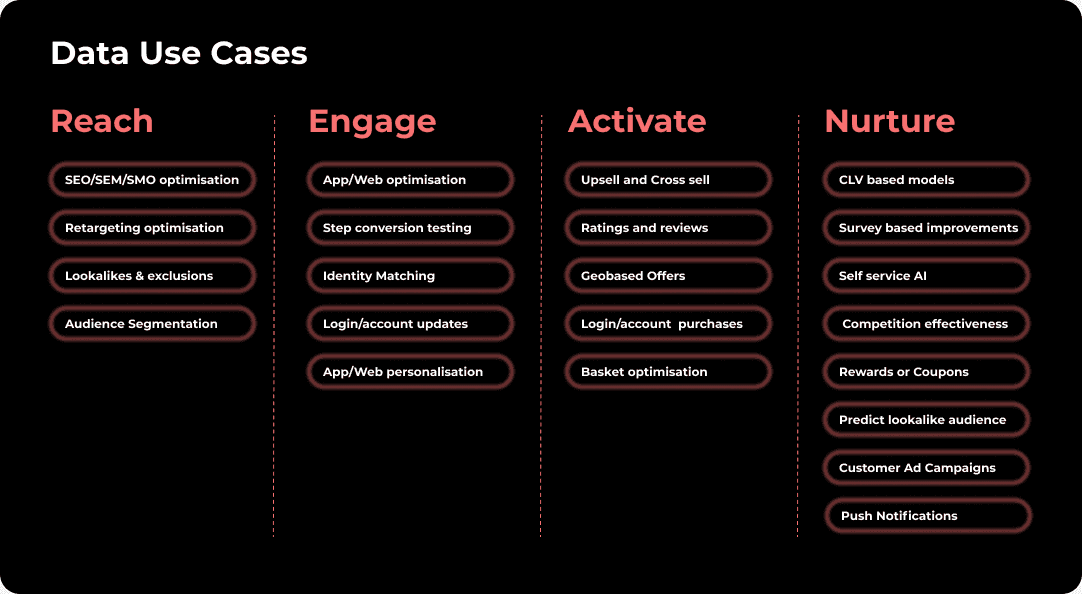 Engage Data Use Cases
Engage DUCs are about understanding how our customers interact with our content and products in order to create meaningful engagement. This is where analytics tools come in handy, allowing us to track key metrics like click-through rates, page views, time on site, and overall engagement metrics.
Some Engagement Data Use Cases Might be
App/website processes optimisation
Step conversion improvements
Identity matching (i.e. app to web)
Logins/account updates (enrichment)
App/Website personalisation
By leveraging the insights we've gathered from these kinds of DUCs, we can begin to make informed decisions on how to engage our customers more effectively. For example, if we know that a particular product page (step conversion) is seeing higher than average click-through rates, that could be a sign to invest more in optimizing that page for conversions. Which brings me to the Activate DUCs.
Activate Data Use Cases
Activate DUCs are about understanding how our customers purchase, subscribe, sign up or download your content. It's when they have taken an action we wanted them to take (or in other words Activated). The key metrics here are conversion rates of the various items you want to measure as valuable conversions.
Some Activate Data Use Cases Might be
Upsell and cross sell
Ratings and reviews
Geobased offers
Logins/account conversions
Bundling and basket drivers
Ultimately, by integrating analytics into your decision-making process, you can understand how to create meaningful experiences that drive results. This will help you stay ahead of the curve by uncovering opportunities for innovation before your competitors do. With the right insights at hand, you'll be able to craft effective strategies designed specifically for your customers' needs, enabling you to keep them engaged along their journey with your product or service.
Nurture Analytics Use Cases
Finally you need to develop DUCs that nurture customers over time. You do this by building relationships through consistent interactions and ensuring customer needs are met as they progress along their journey with you. Typical metrics at this stage of the customer journey are customer lifetime value, return on ad spend (ROAS), customer satisfaction, conversion rates of nurture campaigns (like coupons and push notifcation take up).
Some Nurture Data Use Cases May Be
Customer lifetime value (CLV) based models
Survey based improvements
Self service AI
Competitions
Reward scheme
Coupons
Predict a likely lookalike audience to download app
Customer Ad campaigns
Push notifications
By utilizing the REAN model strategically, you can ensure that your use cases remain both effective and impactful over time, leading to improved customer engagement and increased conversions down the line.
Final word on the REAN Model
I've been using the REAN model in my own work since 2006 when it was invented in Satama Interactive by Xavier Blanc. It's a key component in my books which you can buy from here. Over the years I've probably implemented this thinking into hundreds of businesses since then and everyone has found value in breaking down complex customer journeys into measurable actions.
The REAN model provides us with an effective way to map out our data use cases. By applying this framework to our analytics initiatives, we are able to better understand how each of the components can work together to drive the success of our business. I have seen how Reach, Engage, Activate and Nurture analytics use cases can be used to create a well-rounded strategy that is tailored for any organization's needs.
The REAN model allows us to envision our data driven components into a simple framework, which you can then use to develop a data use case, prioritise and move the business forward.
If you like what you read and want more information then please drop me a line.